Happy October! Fall is here, harvest season is upon us and Halloween is creeping around the corner. It's the perfect time to help kids with cancer. Check out these 10 creative ways to fund childhood cancer research while the leaves are falling.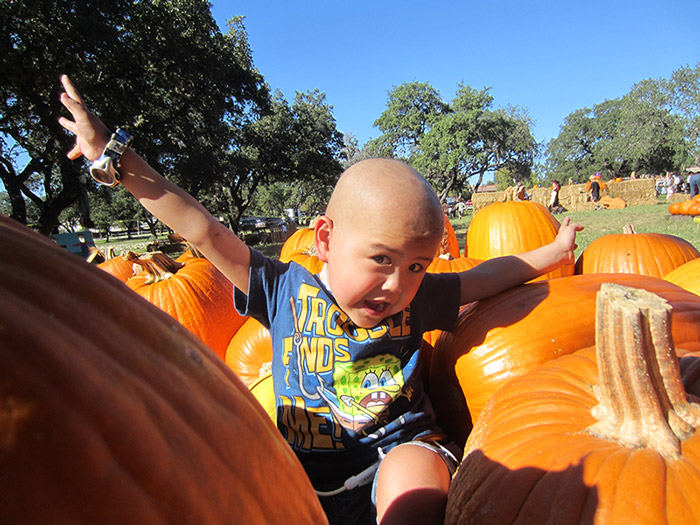 Who loved fall? 2014 Ambassador Alan, that's who! His favorite holiday was Halloween, because he liked walking around his neighborhood and trick-or-treating. What can you do to help kids with cancer during Alan's favorite time of year? Read on to find out!
1) Rake for Research: Gather your team and hit the streets to clean up those falling leaves. Volunteer your service to rake leaves in your neighborhood in exchange for a donation toward your goal. Living in a leaf-less climate? There's always grass to mow, trees to trim or windows to clean!
2) Fill Bellies to Fight Cancer: Put your taste buds to the test and host a cook-off contest. Ask your group to bring their prized recipe for BBQ or chili and collect donations for entry. Attendees will leave feeling full and satisfied for helping your cause.
3) Watch Football While Fundraising: What could be better than that? Host a weekend football potluck party, including a 50/50 raffle or football pool, with the proceeds going to your fundraising goal. Clear eyes, full hearts, can't lose when you're helping kids with cancer!
4) Participate in 'Make a Difference Day': October 24 is 'Make a Difference Day,' so celebrate by encouraging your friends, family and social network to fund lifesaving kids' cancer research, because research is how we can make a difference in the lives of kids with cancer now and in the future.
5) October = Time for Employee Giving: October is a big month for employee giving. Check with your employer to find out how they can get involved. Whether your workplace supports matching gifts or can designate St. Baldrick's for payroll deductions, they can help you reach your goal!
6) Kick Cancer with Candy: With Halloween coming up, it's officially candy season. Get a jar for your classroom or office and fill it up with your favorite treats. Ask people to make a small donation for their chance to guess the number of goodies inside. The closest one to guess is the winner who gets to keep all the goods!
7) Pumpkins Aren't Just for Lattes: It's fall and that means all things pumpkin – including your fundraising! October 26 is National Pumpkin Day, so celebrate by going to a pumpkin patch and setting up a booth to request donations. Or gather pumpkins, paint them and raffle them off. You could even set up a 'carve-by-donation' table at your school or in your neighborhood. Sometimes pumpkin patches or a local nursery will even donate those glorious orange globes.
8) Suds for Science: October means that it's time for Oktoberfest. Ask a local brewery or restaurant hosting an Oktoberfest celebration to donate a portion of proceeds. This idea is delicious and it puts the FUN in fundraising! Who could ask for more?
9) Monster Showdown: Ask your school, local YMCA or rec center to host a spooktacular sporting event. In the spirit of Halloween, have teams dress up as  monsters and go head-to-head. (Think: Zombies vs. Vampires Kickball Tournament.) Then ask spectators to give to the cause during game play or request a small donation as entry to view the event.
10)  Get Scared to Cure Cancer: Set up a haunted house in your garage or backyard. Advertise it around the neighborhood and ask for donations at the entrance. As part of the fun, put together a photo booth with silly hats, wigs and masks. Snap photos of donors with a Polaroid camera and boom — it's an instant 'thank you' for funding kids' cancer research!
Get started to help #DFYchildhoodCancers.
Start a Fundraiser